"Can algae fly?", asked a displeased Supreme Court on Wednesday, while scolding the Archaeological Survey of India (ASI) over its defence for the Taj Mahal's destruction. The court wondered whether the apex conservation body is needed at all to save India's most famous monument.
The poser came after ASI said algae are a big problem, and that the Taj Mahal is getting infected by insects breeding in the Yamuna's stagnant waters. This prompted a bench of Justices Madan B Lokur and Deepak Gupta to ask how algae could reach the higher reaches of the 17th-century architectural wonder.
The ASI replied: "It flew there." "Can algae fly?" came the court's counter. The ASI also told the court that the pristine white floor is getting discoloured because all people walking on it do not use socks. "We provide socks only to VIPs, others use their own socks," it said.
The bench said the situation would not have been so if ASI had done its job and taken preventive steps. "The problem is that ASI is not willing to accept that there is a problem. We are surprised with the way ASI is defending itself," the top court said.
The court sought to know what is being done to save the UNESCO World Heritage Site.
"You (Centre) please consider whether ASI is needed or not. Perhaps we need to examine solutions to prevent the decay of the Taj Mahal without ASI," the bench said. The Centre said it is considering the top court's suggestion to appoint Indian and international experts to look into the protection and preservation of the Taj.
The Uttar Pradesh government said it would place before the court a draft of its vision document on protection and preservation of the mausoleum. The government said it is also trying to ensure that the white marble tomb could be there for another 400 years.
The court has been hearing a plea filed by environmentalist MC Mehta who has sought protection of the Taj from the ill-effects of polluting gases and deforestation in and around the area.
In May, the apex court expressed concern over the changing colour of India's biggest tourist attraction, apparently due to pollution, and rapped the government, saying "perhaps you don't care".
The monument was built by Mughal emperor Shah Jahan as a symbol of his love for his favorite wife, Mumtaz Mahal, after she died in childbirth.
TOP COURT: DO WE NEED ASI?
The top court wondered whether the apex conservation body is needed at all to save Taj Mahal

The court asked Centre to consider if ASI is needed, saying there is a need to examine solutions to save Taj without ASI
(With agency inputs)
Date updated:
Thursday, 10 May 2018 – 5:15am
Article Images: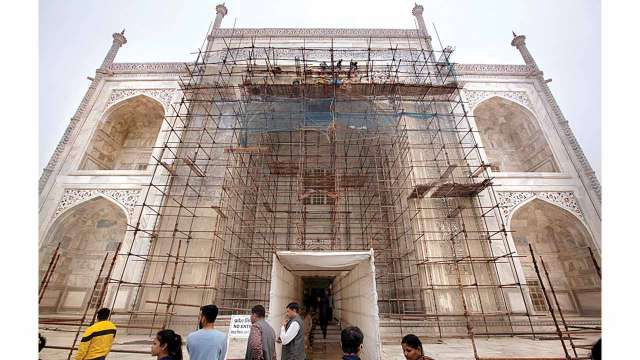 from Daily News & Analysis https://ift.tt/2I4GL7p