The Brihanmumbai Electric Supply and Transport has been losing its grip on SoBo.
A recent stocktaking of BEST passenger traffic and bus trips revealed the undertaking is operating the least number of buses from its five depots in the island city as compared to suburban depots.
In February, the BEST plied 532 services which originated in SoBo — at Backbay, Colaba, Worli, Mumbai Central or Wadala depot.
On the other hand, depots in Central Mumbai, chiefly Bandra, Anik, Pratiksha, Dharavi, Kala Killa and Santacruz, which cater to up-and-coming business hubs, sent out the most number of buses — 674 on an average.
North Mumbai, meanwhile, saw an average of 605 buses a day, western suburbs 582, and eastern suburbs 584, leaving the SoBo part of the operations to bring up the rear.
Official BEST sources said the buses in SoBo ferried 1.29 crore passengers that month, which is much lesser than the passenger load borne by depots further uptown.
All the SoBo trips together ran up 22.47 lakh kilometre in February, each clocking up 150 km a day.
The officials admitted that they could not manage to run a sufficient number of bus services in south Mumbai.
"It seems that south Mumbai is being neglected. It is probably because the working population is shifting north," said Vidyadhar Date, member of Aamchi Mumbai Aamchi BEST, an NGO.
The most number of BEST buses in SoBo leave from Wadala depot — 138 a day on balance. And the least number of buses leave from Colaba depot — 79.
The ones that start from Colaba go through CSMT, Churchgate, Marine Lines, Masjid, Nariman Point and so on. BEST officials said that the cost to operate a bus every km is Rs 12,300 while the earning is a little more than half of the amount.
"The BEST should cater to south Mumbai more than other areas, as it it still a hub," said AV Shenoy, a city-based transport expert.
The loss-making and debt-riddeld BEST recently decided to cut costs by getting buses on wet lease, but the industrial court shot a hole through this plan, allowing it to get the buses from a private contractor but use its own staff to operate them.
FLEET CHECK
The BEST currently operates 3,300 buses a day ferrying 25 lakh a day.

The number of passengers it ferries every day is 25 lakh.

It wanted to get another 450 buses, including 200 AC buses, on a wet lease, at a cost of Rs 600 crore.

But it will have to use its own staff to operate it.
Date updated:
Thursday, 17 May 2018 – 5:30am
Article Images: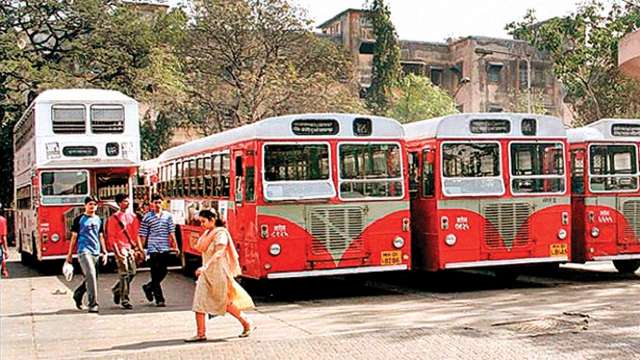 from Daily News & Analysis https://ift.tt/2k3PsjG