A building collapse in Delhi has untangled the state of healthcare facilities in the national Capital. Patients were once again running from one hospital to another hoping to get treatment for the injuries. Seven labourers were injured after a portion of an under-construction banquet hall collapsed in North-West Delhi's Gujranwala Town on Monday evening.
The biggest and only trauma centre of Delhi government —Sushruta Trauma Centre referred two cases of emergency care to Lok Nayak Hospital as the operation theatres (OTs) in the hospital were dysfunctional.
"The OTs are under repair since Friday as a wire had caught fire. Both of them are under construction. We have referred the critical cases to other hospitals. Two patients are admitted to the neurosurgery department and being treated," said a senior doctor from Sushruta Trauma Centre.
According to the police the incident took place around 5:23 pm on Monday. The seven injured have been identified as Surender (40), Bablu (36), Chander Bhan (40), Jayakumar ( 40), Yogesh (40), Parmatma ( 42) and Pramod (24). The labourers were involved in repair and construction work on the rear portion of Pritam Banquet Hall on the GT Karnal Road.
"Twelve labourers were working at the site, of which seven sustained injuries. However, there was no casualty reported. Five of them are undergoing treatment at Sundar Lal Jain hospital while two are being treated at Deep Chand Bandhu hospital. Due to the collapse, four vehicles were also damaged," said Aslam Khan, DCP, North-West.
The fire department received a call at 5:24 pm about the incident and five fire tenders were rushed to the spot for the rescue operation, an officer from the Delhi Fire Service said.
On the other hand, one of the biggest Delhi government hospitals — Lok Nayak also couldn't offer immediate treatment. Located in central Delhi, the hospital was running full and no beds were available on Monday in the emergency ICU.
"We have adjusted most of the patients in the nearby hospitals. The OT of the trauma centre was undergoing a repairmen work and which is why the patients were diverted to the other hospital," said Rajeev Yaduvanshi, health secretary, Delhi government.
Date updated:
Tuesday, 8 May 2018 – 6:20am
Article Images: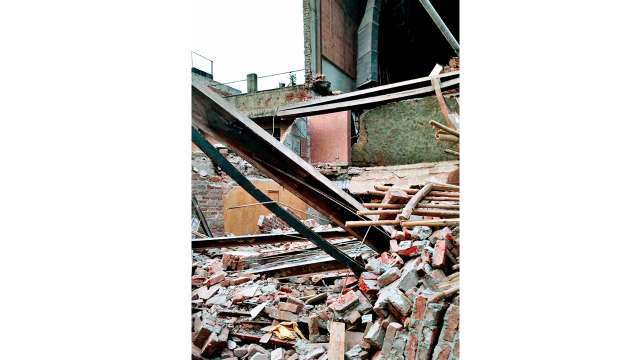 from Daily News & Analysis https://ift.tt/2K2rxMM